Awards
From Task Force 575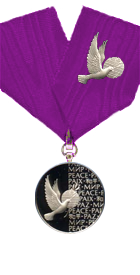 The awards database is a resource for all of Valiant operations whereby they can read about the how and why of those people who have been recognised by Valiant Operations for their efforts towards the same.
The awards come in two categories, In character and Out of character, the first for recognition of deeds done in the story by the characters that make up the fleet, the second for actions done by the people that play those characters.
As ever any member of the fleet may propose any other member of the fleet for any award, and as long as the reasons are good it will be granted. For each award a ribbon will be made so that the recipient may display their recognition alongside their signature.
In Character Awards
Combat awards
Only awarded for deeds performed in the face of personal danger
Non-combat awards
Awarded for qualifying in skills and disciplines pertinent to service
Alien Awards
'Awards given by peoples other than the Federation and recognised by her structures
Out of Character Awards
Personal Awards
For individuals who have shone within the fleet
Posting Ribbons
In recognition of great personal efforts doing what we all came here to do
Unit Citations
For sims deemed deserving extra recognition
Proposing an individual for an award
Any member of the community may propose any member for an award at any time, this is not restricted to the people running sims but also open to the crews and support staff of the community.
It is not necessary to know which award you are proposing an individual for, merely to be able to state what exactly it is they or their character have done that makes them stand out as worthy of recognition.
It is also possible to have a character created with medals already awarded. However the criteria are considerably harder to achieve under these circumstances and it should not be taken as a given without significant consultation with Task Force Staff.
Normally it is considered "bad form" to propose oneself for an award, the thoughts being that if nobody else agrees enough to put in the proposal then probably the award is not deserved and should not be given
Proposals should be forwarded either to your Captains, who then can bring their submissions to any one of the Task Force Staff for approval, or direct to said Task Force Staff.